SCOUT POST SURGERY
Congratulation Candace Jones
WINNER of the LOVELY AIREDALE LAP QUILT auctioned on eBAY for $455.
100% OF PROCEEDS WILL BE USED FOR SCOUT
Thank you Candace your quilt is on the way!


24 FEBRUARY 2011
In the morning, Priscilla writes:
I just received news from Scout's doctor stating that the Scout had a good night and is in stable condition this morning. They even lifted him up on his feet this morning and he did bear a slight amount of weight, but obviously he is a long way from standing on his own. I was told it is critical that they do this on a regular basis even though it is not the easiest thing to do with the urinary catheter & IVs that he has right now. Thankfully, his pain meds are controlling the pain so he is quite comfortable. I am going in to see him early this afternoon and will send another update later today. Thanks again for all the good wishes and financial support that we have received for him.
And in the evening, Priscilla writes:
I visited Scout this afternoon and he is doing remarkably well.
He was happy to see me and I even saw his little tail wag just a bit!
It is apparent he is a very social dog. He kissed my face and placed his nose against my cheek as I sat beside the kennel in ICU where he is staying. He would also lay his head on my arm and whimper softly. His caregiver in the ICU told me he that he had just discovered his IV tubes prior to my arrival and thought they might be fun to chew on! I ended up going to a pet store after I left later in the afternoon to buy him a Kong and some treats for it to keep him busy and brought it back to him.
His doctor came in after I had been there for awhile and told me that Scout was going to have his first physical therapy session and introduced me to the two therapists who would be working with him. They invited me to join them and I was thrilled for the opportunity.
After disconnecting his IVs, they lifted him out of his kennel on his blankets so as to disturb him as little as possible and along with his doctor's help, carried him out of the ICU into another room for his therapy.
They then placed a vest type device on him
so they could lift him up from the handles on top of it.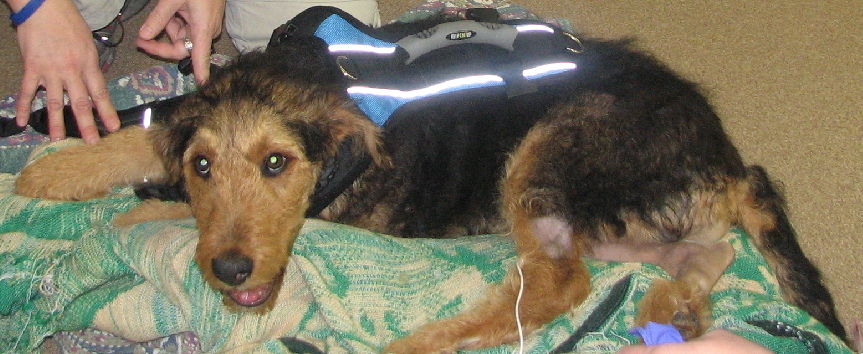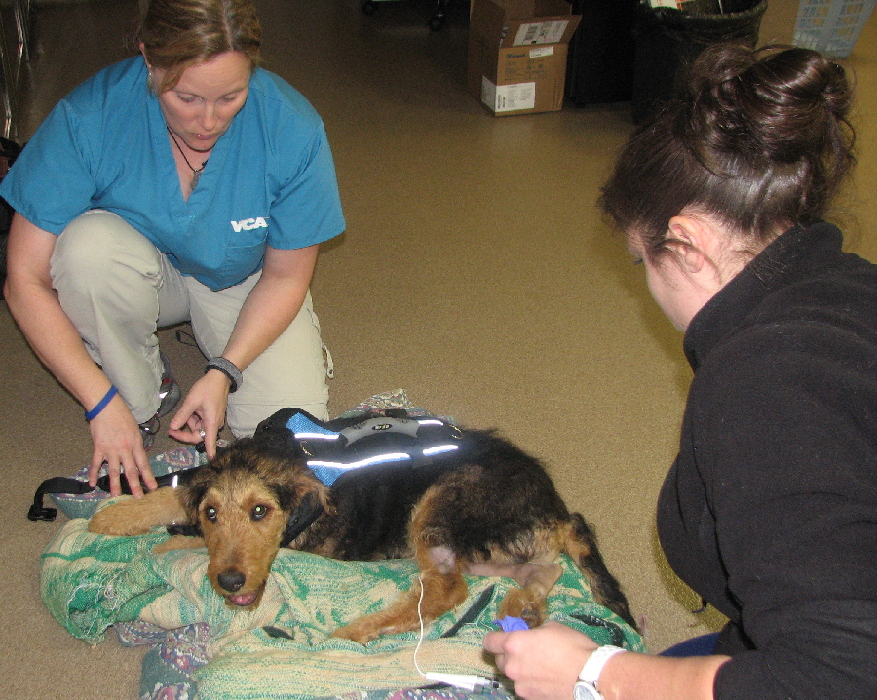 Then they lifted him up!
He actually stood on his own for a second as they helped him.
What a sight to see!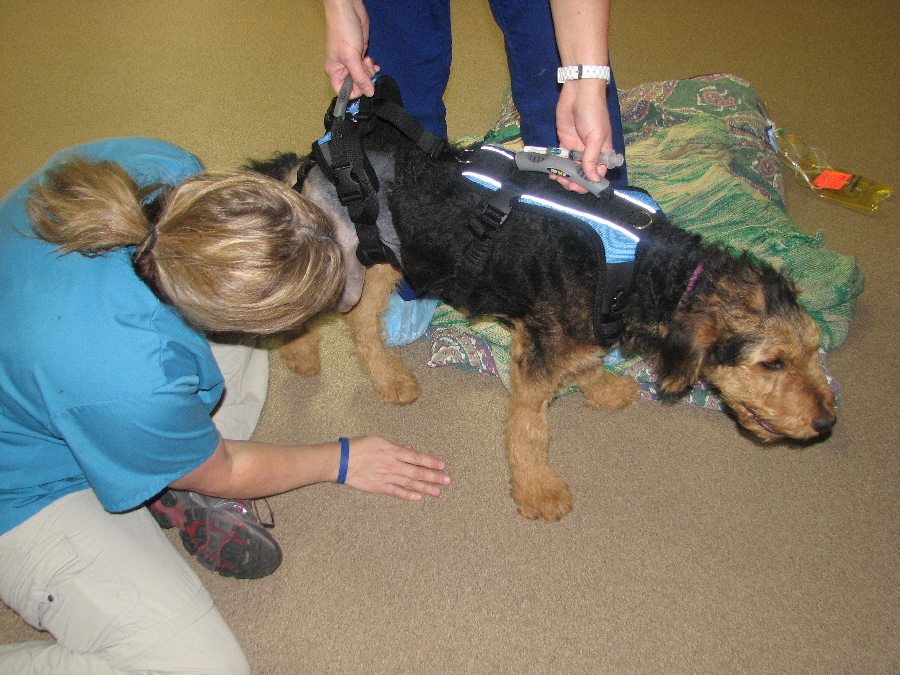 One of the therapists worked Scout's foot in a stepping motion as the other held him up and moved him along. She told me it was part of the therapy so his foot would remember what it was there for since it could not move itself because it is on the leg from his injured hip. They were letting him rest for a few minutes and then getting him up again.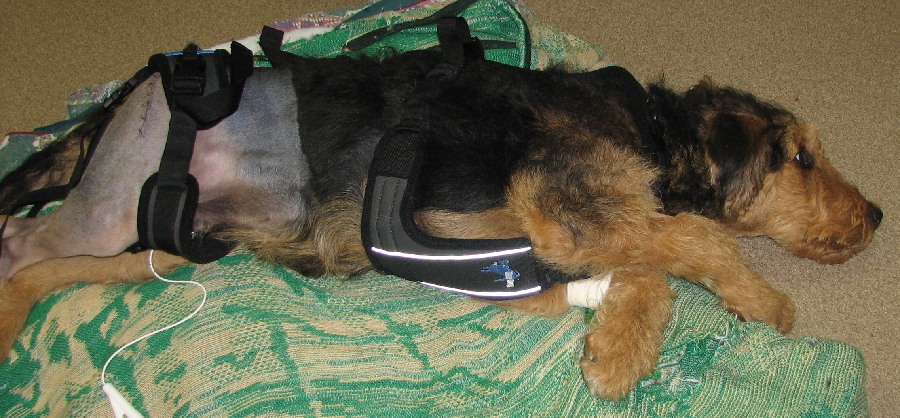 When he was obviously becoming tired, as he is still very weak, they ended the session for this afternoon. He will have two of those sessions daily. They told me that now the surgery is behind him, the therapy is critical for his full recovery and he has a long road ahead of him to accomplish that goal. He was a tired puppy when the session was over today!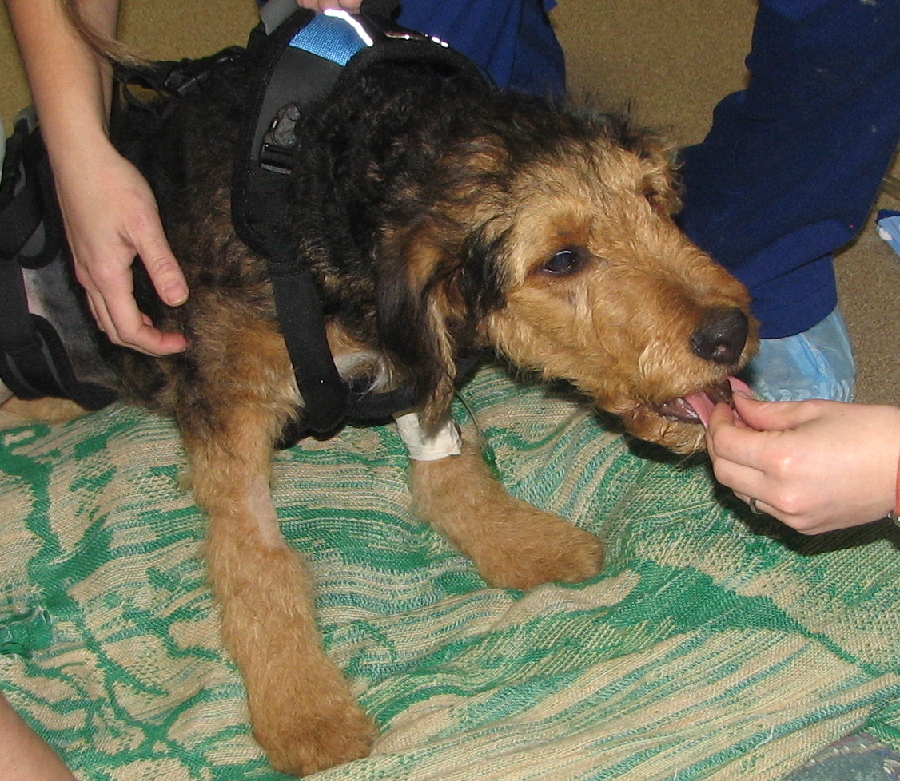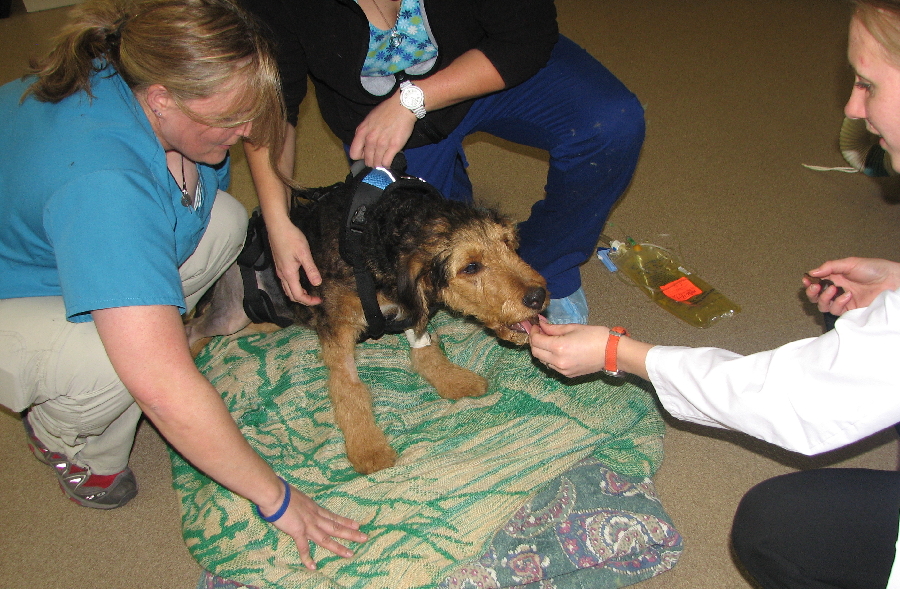 Thanks to all for your thoughts & prayers & financial help. We are most grateful.
MORE PHYSICAL THERAPY HERE
If you're interested in SCOUT,
Priscilla would love to hear from you HERE.
---
---
DONATE VIA PAYPAL HERE;
USERNAME IS AML9848@comcast.net
Please specify that your donation is for
SCOUT IN COLORADO
DONATE VIA CHECK MADE OUT TO ATRA AND SEND TO:
ATRA/SCOUT
1123 VESPER RD
ANN ARBOR MI 48103